Sabeel Kairos
Sabeel Kairos – a call to action to the church across the world, asking them to denounce occupation and take a lead in the campaign for a just peace.
Taking action for Palestine
Sabeel Kairos is a network of British Christians who have come together to speak out for justice in Palestine and Israel in response to a call to action from Palestinian church leaders and Christians.
Kairos is a Greek word that means 'a critical moment in time'. At the beginning of his mission in Nazareth, Jesus invoked the urgency of kairos saying, "the time has come." It is a word that demands an urgent response and a change of mind and direction.
In 1985 Christian leaders in South Africa issued the Kairos Document, a call to action to the Church across the world, asking them to denounce apartheid as a sin and take a lead in the campaign against apartheid.
In 2009 Palestinian Christians issued a similar call – A Moment of Truth; A word of faith, hope and love from the heart of Palestinian suffering or the Kairos Palestine Document.
"Our question to our brothers and sisters in the churches today is: Are you able to help us get our freedom back? For this is the only way you can help two peoples attain justice, peace, security and love." Kairos Palestine Document.
Now, 'Sabeel Kairos' inspires Amos Trust's campaigning for a just peace for Palestine. The document calls for Christians to 'Come and see' and so we have increased the number of trips we are offering for individuals and churches to visit Palestine.
We have supported acts of non-violent resistance such as joining with our partners to rebuild demolished homes and helping to organise the Bet Lahem Live Festival.
We were acutely aware that this was not enough, so we joined together with other Christian campaigning groups from a variety of theological and church traditions and coordinated a unified British response to Kairos Palestine – Kairos Britain.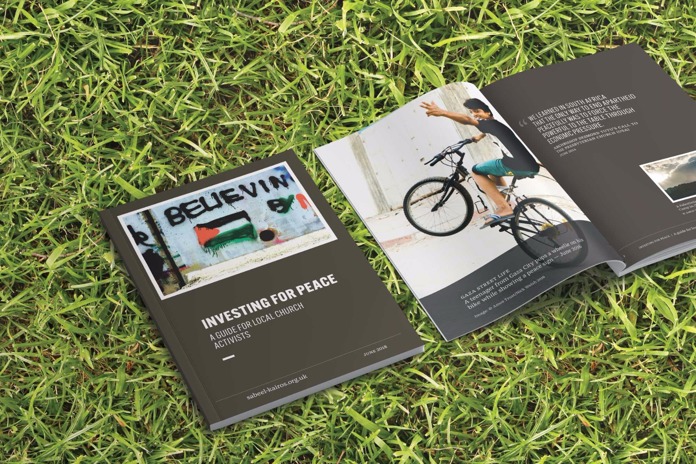 Investing For Peace:
Sabeel-Kairos' new book which is available now as a free download.
The Kairos Britain network is open to individuals, churches, and communities. Find out more about how you and your church can join the network.
Sabeel Kairos created Time for Action – A British Christian response to 'A Moment of Truth' – the Kairos Palestine document, a clear statement as to why British Christians should care.
It challenges churches and individuals to reflect prayerfully and respond, faithfully and courageously to the call from our Christian brothers and sisters in Palestine. It challenges churches to speak out against oppression and for human dignity and suggests actions that individuals and churches can take.
We can be silent no longer.
It is time for prophetic faithfulness.
It is time for action. 
Time For Action, Sabeel Kairos.
amos palestine campaigns
Challenging injustice, building hope & creating change.
support amos trust
Your gift will enable our partners to bring justice and hope to the forgotten around the world.
GIVE NOW
receive the amos newspaper
Please sign up to receive our printed newspaper which comes out three times a year.
SIGN UP NOW
Contact us
Amos Trust
St Clement's
1 St Clement's Court
London
EC4N 7HB
United Kingdom