March 2020 – exact dates TBC
Join Team Amos and run the eighth annual Palestine Marathon in Bethlehem, in the shadow of the Wall. This marathon was set up to raise awareness of the fact that you can't run 26 miles in the 'Little Town' without going through a checkpoint or literally 'hitting The Wall.'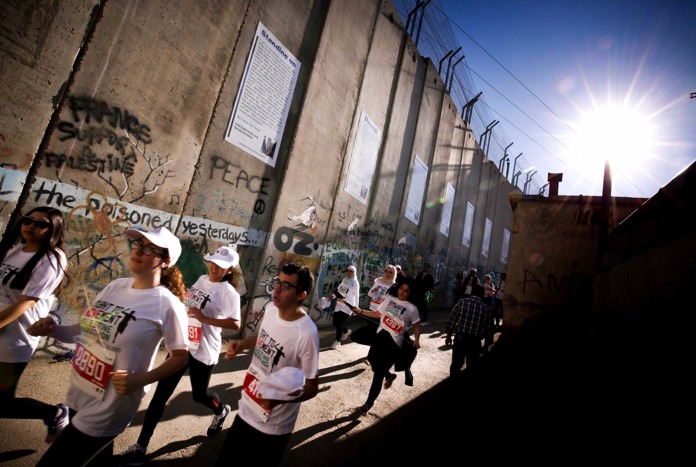 Palestine Marathon & Half Marathon
March 2020 – exact dates to be confirmed
Join Team Amos and run the Palestine Marathon or Half Marathon in Bethlehem in March 2020.
Now in its eighth year, the Palestine Marathon in Bethlehem was set up to raise awareness of the fact that you can't run 26 miles in the 'Little Town' without going through a checkpoint.
The 2020 marathon will take place in March and we are looking for marathon and half marathon runners to join Team Amos. We welcome runners of all ages, men and women, and with a range of experience.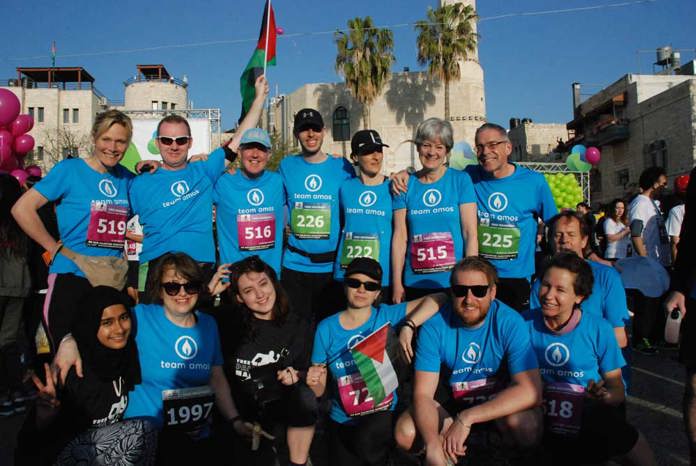 Members of Team Amos at the start line for the 2017 Palestine Marathon.
The Palestine Marathon is challenging as the route requires you to run the same stretch four times, it is undulating terrain, and temperatures can be very hot even in March. So we would encourage first-time marathon runners to do the half marathon.
I felt like I'd been run over by a bus the next day but I wouldn't have changed it for the world. I loved raising money, I loved being in Palestine and seeing where the money I had raised for Amos was going, I loved doing the run and I loved being part of the team. And I really really really loved all 
those falafels.


Tara Wigley — Ottolenghi
The Team Amos trip will take place in March 2020 and runners will need to raise £1,000 for our partners in Palestine. We will provide fundraising materials, support and advice to help you reach this target.
While you're in Palestine, there will be plenty of opportunities to get to know Bethlehem, including visits to our partner projects as well as time for sight-seeing. We'll also be visiting Hebron and Jerusalem as well as a trip out to the desert, which is really not to be missed.
The trip costs are currently being finalised but they will include full board accommodation, transport, entry fees and much more. It excludes flights, allowing for more flexibility and hopefully a cheaper trip.
To find out more and to join Team Amos, please email katie@amostrust.org
NB: Please do not register via the Palestine Marathon website. We have a group of places held by the event organisers as one of their UK partners so if you register directly with them, you may end up paying the entry fee twice.