Water For Life Appeal
Amos Trust's Water For Life appeal will 
help the communities of Teustepe in Nicaragua to flourish.
What if we told you that a donation of £35 would mean a family in Nicaragua could have clean and safe drinking water for 3 years? 18 Amos supporters recently returned from Nicaragua where they learned all about what Amos partner CEPAD is doing to change lives in the 7 communities Amos supports there.
We helped build wells and water capture systems heard stories of change, learned about one urgent need and came back determined to do more.
Water For Life
Appeal for Nicaragua
We want to provide 20 water filters to each of the 7 communities we support through our partner CEPAD. Will you help us?
£35 provides 1 water filter for a family

£700 provides enough water filters for 1 community

£4,900 provides 140 water filters to 7 communities

Meet Olga
Olga lives in one of these communities, Aguas Calientes. She and her sons have benefitted from CEPAD's family garden programme. Before accessing the training from CEPAD, she and her family were limited to a diet of rice, beans, and the occasional cheese or meat. In the last year, she has been able to harvest cabbage, carrots, beets, papaya, onions, and melons.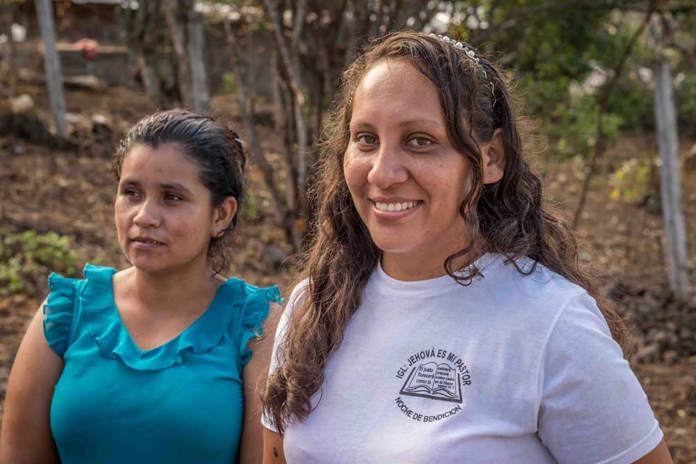 Improved diet
Olga (right) and her family are working with CEPAD to grow fresh vegetables in the community of Aguas Calientes and six other communities in Teustepe. Photograph: Amos Trust/Clive Horsman 2018
Olga explains that having access to vegetables that she has grown has improved the health of her two children. She smiles shyly as she says, "vegetables are expensive, and now we can just go outside and pick what we need for our meal."
Now Olga is helping set up a family garden at the community school with the long-term goal of providing school lunches for the children attending.
People living in houses that have the water filters don't get sick. The only thing you can't put into the filter is chlorine." 

Francisco — member of a community who now have water filters thanks to CEPAD
But despite all the positive changes in Aguas Calientes, Olga told us that they still desperately need clean, safe drinking water. The water that runs down from the thermal spring contains traces of arsenic but it is all they have to drink. As a result, many people have kidney problems. A desperate need for clean, safe drinking water was something we heard about in every community we visited.
CEPAD plans to supply 20 very simple and easy-to-maintain water filters alongside training to all 7 communities at a cost of just £35 per filter. The filters are made up of a tube layered with materials that people can access easily and is then placed in a bucket.
You can see how happy the families are because they trust the water — so this is a huge help for their homes. We see that with a small cost we can save lives. Before we installed filters we had people with e-coli because of dirty water. Through CEPAD we obtained the filters we needed." 

Dalila — member of a community who now have water tanks thanks to CEPAD
Wilfredo who works at CEPAD's training farm explained how it works saying:
"For the first-layer, we take pebbles from the river and wash and dry them in the sun. It takes 3–6 days of UV radiation to clean them. For the second and third layers, we take progressively smaller pebbles and wash and dry them as before.
Then we add charcoal, which can be bought in the local market for $1 a pound. Again, it is washed and left to dry in sunlight. We then put in a layer of sand and then a sponge. This is special because it changes people's health and people's lives."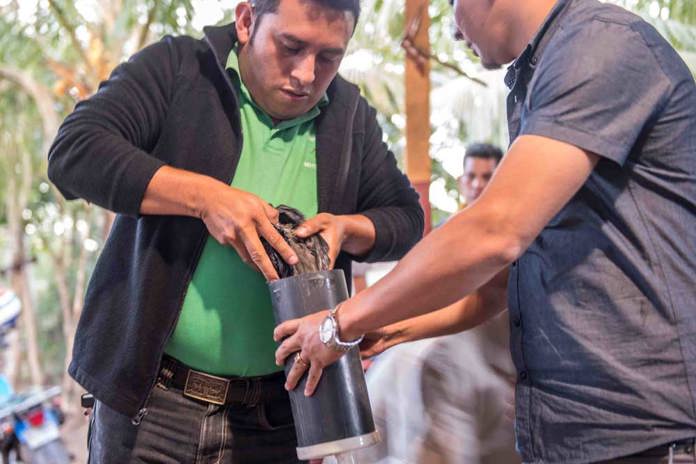 Water For Life 
Wilfredo and other community members are working with CEPAD to bring fresh water to Aguas Calientes and six other communities in Teustepe. Photograph: Amos Trust/Clive Horsman 2018 
Climate Justice resources
Take a look through our range of resources, including blog posts, downloads and products, to find out more about our Climate Justice work.
amos trust works all around the world
We work alongside grass-roots partners in Palestine, South Africa, Nicaragua, Burundi, India and Tanzania.
CONTACT US
Amos Trust
St Clement's
1 St Clement's Court
London
EC4N 7HB
United Kingdom