Sunday 29th July 2018 
The Prudential Ride London-Surrey 100 takes place on Sunday 29th July. Celebrating the legacy for cycling created by the London 2012 Olympic and Paralympic Games, Prudential Ride London-Surrey 100 starts at 6.00am in Queen Elizabeth Olympic Park and follows a 100-mile route on closed roads through the capital and into Surrey's stunning countryside.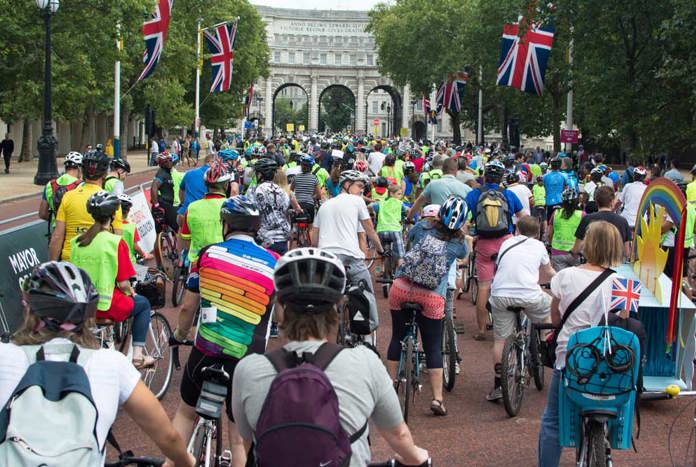 Sunday 29th July 2018
With leg-testing climbs and a route made famous by the world's best cyclists at the London 2012 Olympics, the Prudential Ride London-Surrey 100 is a truly spectacular event for all involved.
The ride finishes on The Mall in central London shortly before 150 professional cyclists race in the Prudential Ride London-Surrey Classic on a similar route.
Starting at the Queen Elizabeth Olympic Park, riders will enjoy an exclusive traffic-free route out to the beautiful Surrey countryside, take on the famous Box and Leith Hills before heading back to London to finish on The Mall.
Reasons to cycle for Amos: 
You'll receive:
a pack full of fundraising ideas and advice

your very own Amos cycling jersey

a training plan – whether you're a beginner, intermediate or seasoned cyclist

the chance to cycle with other Amos team members (if you want to)

an enormous sense of achievement by standing with us in our work to challenge injustice and build hope.
All you need is your bike, a cycle helmet and a sense of adventure! We only ask that you try to raise as much sponsorship as you can for our projects and partners around the world.
To join the Amos London-Surry 100 team, or if you have any questions please email Katie Hagley.
See you on the road!
Back to Diary