Amos Gaza Appeal
1.8 million people in Gaza have endured 3 wars in 6 years. Half Gaza's population are children – many have lived their whole lives under blockade – by land, sea, and air. A 2012 UN report predicted that for the 1.8 million Gazans, life would be unlivable by 2020 — many people would agree that that moment has already been reached.
Please support our work in Gaza
The 11-year long Israeli blockade has left 80% of the population dependant on food aid, unemployment rates at 44% (60% for young people). At least 96% of water is undrinkable, and there is often only four hours of electricity each day. Cancer rates have risen sharply and yet the opportunities for treatment have declined drastically.
In Gaza City we partner with Al Ahli Arab Hospital and Near East Council of Churches' (NECC).
Al Ahli Arab Hospital
A Place of Peace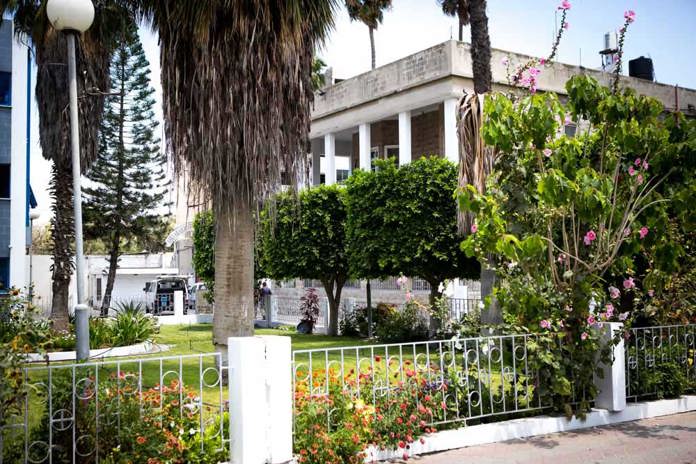 Despite the extreme adversity, Al Ahli Hospital staff and volunteers are committed to serving the community through out-patient and in-patient care.
Al Ahli breast cancer screening programme
If you are diagnosed with breast cancer in Gaza you are three times more likely for it to be fatal than in the UK. There is no radiotherapy allowed and people will be lucky to get a full course of chemotherapy.
Women need to leave Gaza to go to the West Bank for treatment, which is expensive, involves leaving their families in Gaza throughout the treatment and permission is often denied.
Al Ahli's screening programme promotes early identification, community support and guidance on the options available. The situation women face is completely preventable — we seek to support this programme and raise awareness of these innocent victims.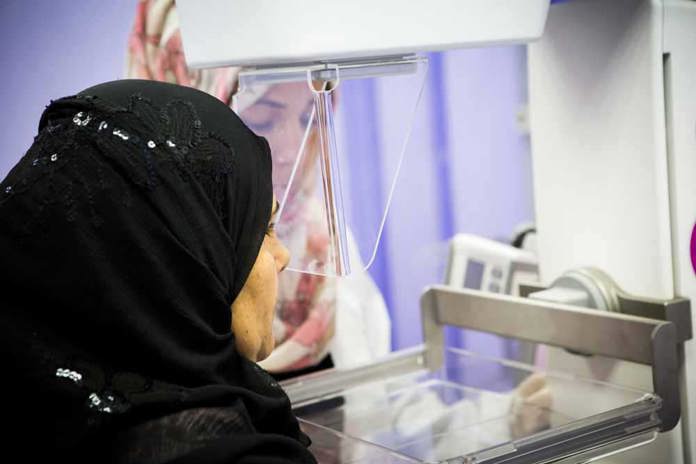 A Gazan woman being screened for breast cancer at Al Ahli Arab Hospital in Gaza City.
There have also seen three major conflicts and areas destroyed in 2014 are still not rebuilt due to the frequent embargo of building materials. The psychological scars on young people have become more and more pronounced as in the last 6 months over 170 Palestinians have been killed and over 15,000 injured in protests against the blockade and the inability of people to leave Gaza.
NECC — Near East Council of Churches
An Irresistible Future
NECC offers psychosocial support and vocational training to the young people of Gaza – the innocent victims of three wars since 2009 – giving them hope for the future.
NECC is engaged in humanitarian work to support Palestinian refugees in Gaza, particularly disadvantaged youth, women and other vulnerable groups. In providing vocational training programmes and educational opportunities for the people of Gaza, who have been the innocent victims of three wars since 2009, they give them hope for their futures.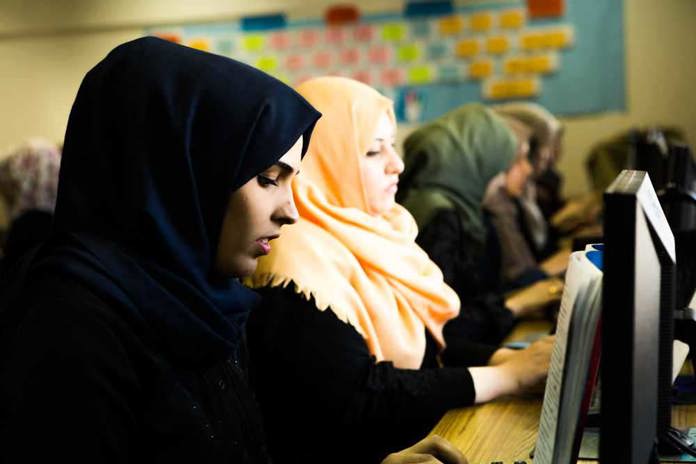 Young women at NECC in Gaza City at a vocational training class.
Specialist mentoring and psychological support is given to all students, which are essential to help them not only to complete and succeed in their training courses but also to develop as individuals and cope with the isolation of everyday life in Gaza.
Amos Gaza appeal
Please help
We support Al Ahli's psychosocial programmes with small children and NECC's psychosocial support and work training programmes for young people. These programmes seek to address the on-going traumatic stress these young people experience, to fight against despair by providing them with skills and support into employment.
To find out more about Al Ahli Hospital, please watch our short film Al Ahli: A Place of Peace – thank you.
Photography: © Amos Trust/Nick Welsh
amos trust works all around the world
We work alongside grass-roots partners in the West Bank and the Gaza Strip in Palestine, South Africa, Nicaragua, Burundi, India and Tanzania.
support amos trust
Your gift will enable our partners to bring justice and hope to the forgotten around the world.
GIVE NOW
receive the amos newspaper
Please sign up to receive our printed newspaper which comes out three times a year.
SIGN UP NOW
Contact us
Amos Trust
St Clement's
1 St Clement's Court
London
EC4N 7HB
United Kingdom