Digital Gifts from Amos Trust
Struggling for gift ideas for that hard-to-buy-for friend or relative?
Why not give something that will make a real difference?
Whether you choose to give the gift of clean water to a family in Nicaragua, sanitary protection for a girl in South Africa or a much-needed party to a child in Palestine, you can rest assured that your gift will change lives.
How does it work?
Simply click on the 'Buy This Gift' link beneath each item.
Donate the correct amount of money depending on how many you would like to buy and please don't forget to add Gift Aid!
Once you have submitted your order, you will receive an acknowledgement email which will contain a link for you to download or share your Gift Certificate.
Each one will look like the images below — this is what each recipient will receive.
Please note:
You will need to pay individually for separate gifts; for example if you would like to buy 2 water filters and 1 period pack you will need to make two donations — one for the sum of two water filters and one for the sum of a period pack.
One Water Filter
To provide clean, safe drinking water for a family in Nicaragua
£40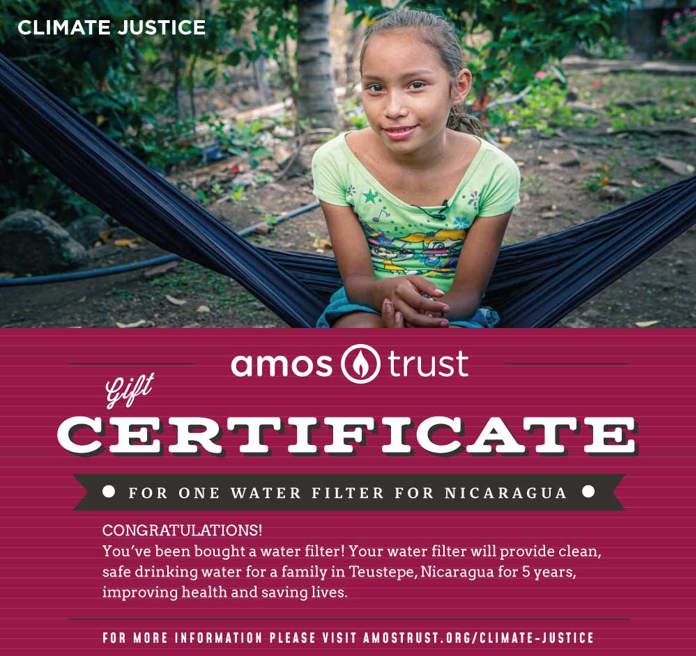 £40 will give a family in Teustepe, Nicaragua a simple water filter which is easy for the family to maintain, and provides clean, safe drinking water for a period of 5 years, ensuring better health and saving lives. 
— — — — — — — — —
One Period Pack
Give a period pack to a young women on the streets
£19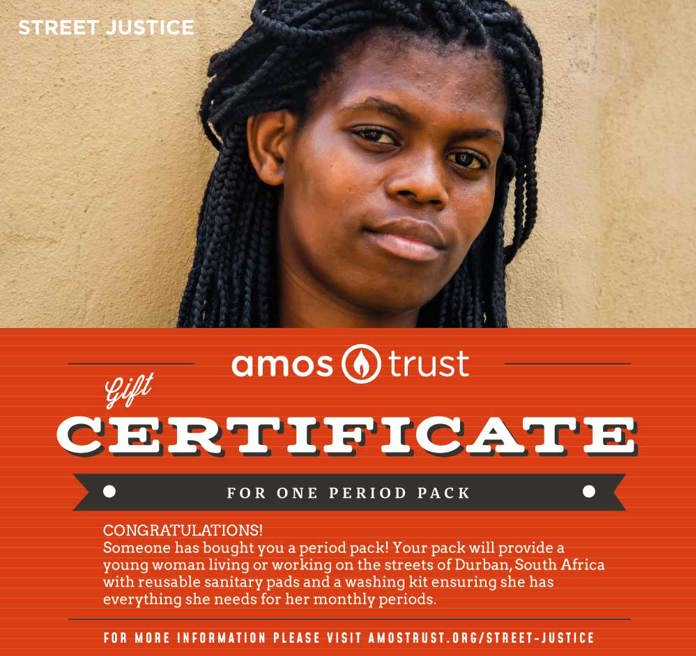 £19 will buy a period pack with reusable sanitary pads and a washing kit, enabling a young woman living or working on the streets in Durban, South Africa to have everything she needs during her period each month. It will last her around 5 years. 
— — — — — — — — —
One Play Session
Help a child in Bethlehem
£12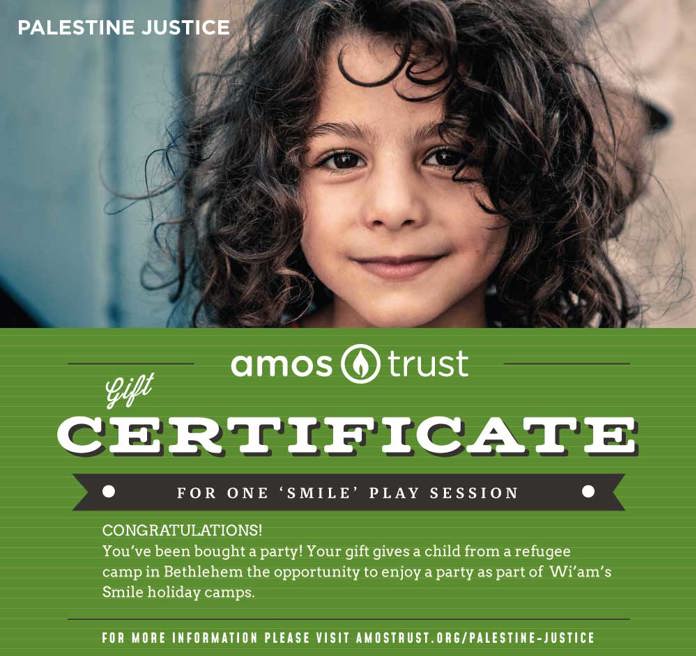 £12 will pay for a child from one of the refugee camps in Bethlehem to enjoy a party as part of Wi'am's Smile holiday camps.
Gifts from Amos Trust
Our range of books, music, cards and gifts are to help you go deeper and find out more about issues that we campaign on. All profit goes to our projects and partners.
CONTACT US
Amos Trust
St Clement's
1 St Clement's Court
London
EC4N 7HB
United Kingdom