Garth Hewitt's new double CD 
This double CD is a companion to Garth's autobiography, also entitled 'Against the Grain'. It contains new songs, as well as songs from different stages of Garth's career plus demos never previously released.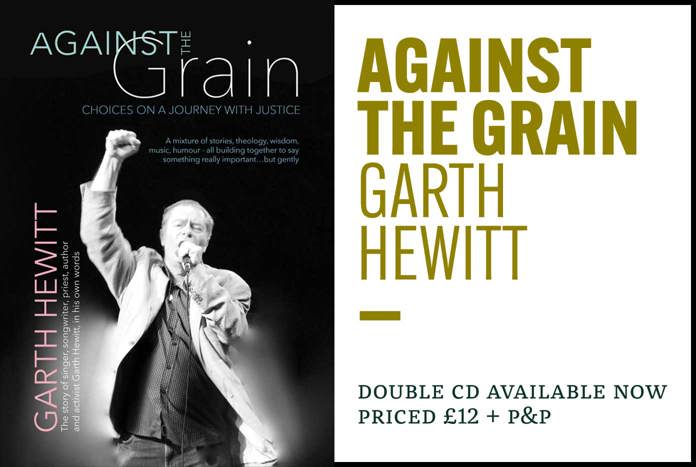 This double CD represents more than 40 albums released by Garth over 45 years including eight never-before-released tracks and two previously appearing only as vinyl singles. 

You'll experience Garth's variety of styles and subjects, ranging from worship songs on justice to 1840s Chartist hymns. There have also been two children's albums and one in Spanish.
Garth has been joined on his records by a wide variety of artists including Bryn Haworth, BJ Cole, Beth Rowley, Jessy Dixon, Sir Cliff Richard, Martyn Joseph, Randy Stonehill, Ben Okafor, Reem Kelani, Penny Cave, Mark Heard, Paul Field, Paul Pilot, Duke Special, Denise Ogbeide and many more including his own daughter Abi and daughter-in-law Eils Hewitt. You'll hear many of these on this album.
This double CD is a companion to Garth's autobiography and memoir also called 'Against the Grain'. In the book, Garth tells what motivated his ministry of music and justice, he shares his influences, his early years, and tells the story of his involvement with the Greenbelt Festival from its earliest days.
He talks about his sense of vocation, both as a priest and in terms of his commitment to issues of justice. Garth tells of the creation and work of Amos Trust that he founded and how and why he got involved in the struggle for justice for Palestine.
Disc 1:
Against The Grain 2018
Raise The Flag 2006
Do Unto Others 2018 (new recording)
Rivers, Mountains, and Trees 1999
Lifeline of Hope 2018
Immigrant Eyes 2018
Stealing Jesus Back 2006
The Hungry Wind 1982
We Don't Do Body Counts 1994 (demo)
Not In My Name 2003
Rainbow Over Kampala 1983
Love Song For The Earth 1976
Eternal Echoes 2006
Physical Pain 1979
I Will Return 1974 (with Chris Barber)
Disc 2: 
Alien Brain 1985
Oscar Romero 1985
Come Home Mar Gregorios 2018
Poets of Nicaragua 2010
Cast Your Net Again 2003
Did He Jump…Or Was He Pushed 1979
The Writing On the Wall 1992
Hail Glorious Morn 2013
Number One 1974
Love Bade Me Welcome 1992
Bread Of Life 1993
Goodbye To All The Heroes 1978
Red Hot and Cooking 1982
How The Dice Falls 1981 (demo)
Golden Studded Jukebox 1980 (demo)
May You Live To Dance… On Your Own Grave 1978
Garth Hewitt writes redemption songs and then sings them without fear. His voice comes through clearly in these pages, challenging us by his witness to act for justice. His is a brave voice, needed more than ever in a fearful world and in a sometimes timid church. Please God, it will help us sing redemption songs of our own. 


The Revd Lucy Winkett
Back to Shop