The story of Just Walk to Jerusalem – Justin Butcher 
A pilgrimage of penance, a march of solidarity. 3,400km, 147 days across eleven countries, three seas, mountains, rivers and soul-stirring landscapes from the green fields of Kent to the desert dust of Jordan. This is the story of Just Walk to Jerusalem.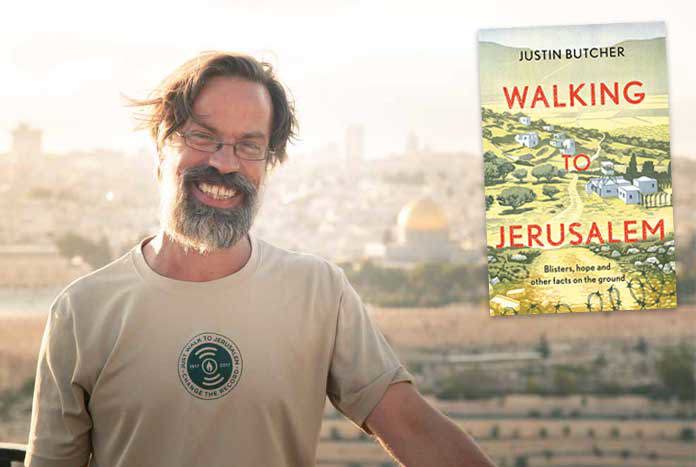 Walking to Jerusalem:
Blisters, hope and other facts on the ground
Justin Butcher — 
Hod

der & Stoughton: £16.99


The story of Just Walk to Jerusalem — blisters, hope and other facts on the ground.

2017 marked three major anniversaries in the Palestinian struggle: the centenary of the Balfour Declaration, the fiftieth year of Israel's military occupation of the Palestinian Territories, and the tenth year of the blockade of Gaza.

To change the record after a century of injustice, a pilgrimage set out to walk from London to Jerusalem – in penance, solidarity, and hope. This was the inspiration of playwright, actor, and musician Justin Butcher, who worked with Amos Trust to mount the Just Walk to Jerusalem, June – November 2017.

Calling for full equal rights for everyone in the Holy Land, more than one hundred walkers took part. Nine walked the whole way.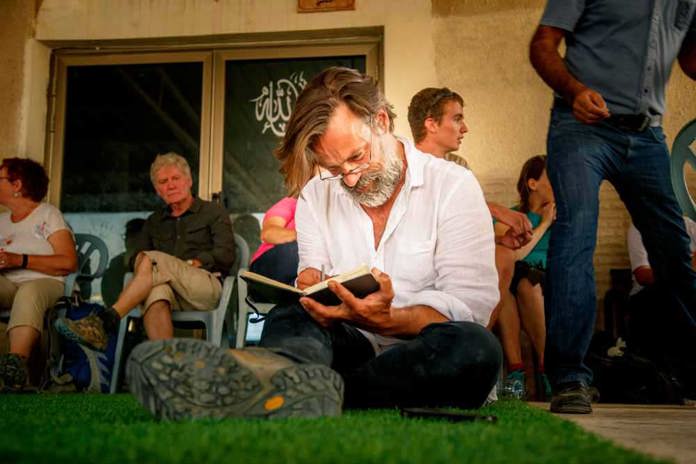 Always writing: 
Justin Butcher sitting making notes during Just Walk for his book, 'Walking to Jerusalem' in the West Bank.
So impressive... interweaving face-to-face experiences and political realities, this book displays the kind of unusual empathy essential in that tangled and tragic situation." 
Brian Eno — Artist & Musician
An incredibly moving and fascinating book, a powerful pilgrim's tale of love, humour and solidarity."
Rosalind Nashashibi — 2017 Turner Prize nominee
A remarkable work of humanity and humility — a great achievement from an inspiring man. I found it fascinating

 — 

a fantastic piece of travel writing, beautifully drawn, very moving and often very funny. So many wonderful descriptions recounting in vivd detail the history and landscapes and people encountered on the way. Utterly evocative."
John McCarthy CBE — Journalist & broadcaster
Butcher relights the flames of hope in our age of hopelessness." 

 


Yasmin Asmin Alibhai-Brown — Columnist of the Year 2016, British Press Awards
This is a gripping and intelligent book that everybody should read."
Patrick Cockburn — 

Foreign Reporter of the Year 2014, Press Awards
Justin Butcher's crisp and vibrant writing style grabs the reader's hand and leads us on a fascinating and thoughtful tour through history into the heart of the politics of contemporary Palestine."
Jeremy Hardy — Comedian
A must-read for everyone who yearns for peace in Palestine."
David Suchet CBE — Actor
Justin Butcher's book is both important and extremely readable - erudite and entertaining on spirituality, history, music, architecture and ecology. But we're always aware of a sense of burning injustice at the plight of the Palestinians in the Occupied Territories of Gaza and the West Bank. The denouement, when they finally arrive in the Holy Land, is both thought-provoking and inspiring."
Barnaby Phillips – award-winning journalist & author, former BBC & Al Jazeera correspondent
Its vivid pages, like a giant moving tapestry, immediately draw us in to this great walk of hope and justice to Jerusalem."
Dr Swee Ang — Co-founder & patron, Medical Aid for Palestinians
Rare and compelling – a revelatory journey from the dirt on the ground to the dreams of so many still beyond the horizon." 
Pen Hadow — Explorer
As an Israeli who campaigns for equal rights in Palestine/Israel, I found in Justin's compelling account a clear sense that peace based on justice and equality is no pipe dream but a real possibility in my tortured land. With Justin as a guide, all of us

 — 

you, too

 — 

can begin to walk the walk."
Jeff Halper — Director, The Israeli Committee Against House Demolitions (ICAHD)
The world badly needs people like Justin Butcher. Insight and passion, soul and solidarity

 — 

to read it is to be reminded that what is right is always found on the other side of fear."

 


Mark Oakley — Dean of St John's, Cambridge, author of 'The Collage of God & The Splash of Words'

This is their story – walking journals and travellers' tales on paths of pilgrimage and conquest, from monasteries and mountain passes to Bedouin camps and desert wadis across Europe and the Middle East. Through Roman roads and refugee routes, Justin traces the pull of Jerusalem on the European imagination – the many strands of legend, fable, shrine, and iconography radiating from the Holy Land and its three faiths.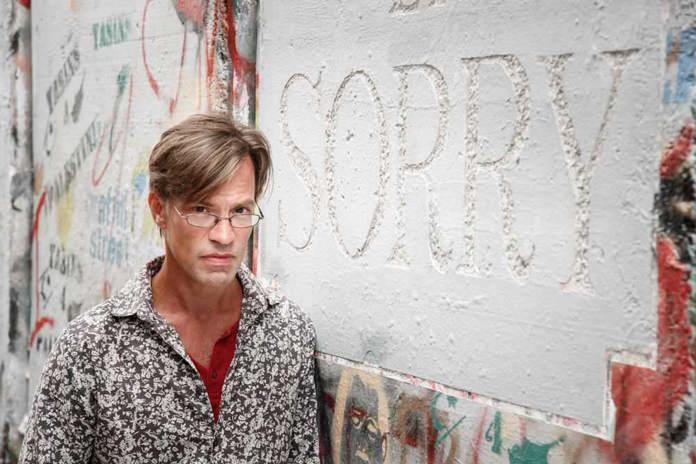 Sorry:
Justin standing outside Banksy's Walled Off Hotel in front of Banksy's 'Sorry' artwork which he did to commemorate the centenary of the signing of the Balfour Declaration in Bethlehem on 3rd November 2017.
Back to Shop