A Christmas Reflection:
"One year, will it slip away?
 Will the meaning finally be lost?
 Will the annual cycle of readings, carols, prayers for peace and a light shining in the darkness — finally, give up the ghost?"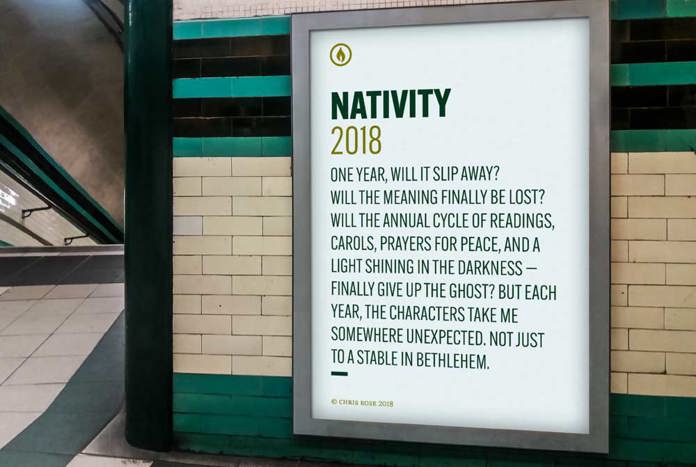 Nativity 2018
A reflection for Christmas
One year, will it slip away?

Will the meaning finally be lost?

Will the annual cycle of
Readings

Carols

Prayers for peace

And a light shining in the darkness —

Finally, give up the Ghost?
But each year
The characters take me somewhere unexpected.

Not just to a stable in Bethlehem.
The confusion,

Steeliness and faith of a teenage mother-turned protest-singer

Gets below my skin.

When I hear the words she sung — 

How could I doubt she's Jesus' mum?
I can't help but see myself in Joseph.

Gabriel is too far out of reach for me.

The shepherds — I know I'd run like them and stand there open-mouthed.

The Magi — well, I would need no encouragement to follow a star and travel on foot to Jerusalem.
But I don't know if I could make Joseph's choice.

Is there any way I'd believe Mary?

And even if I did,

Would my pride get in the way?
And then I come across

The everlasting Father, Wonderful Counsellor,

Prince of Peace, the Mighty God.

I'd prefer everlasting parent but that's not the point.

Surely by now he or she should have chosen another role. How much heartbreak can one deity take?
In my mind, the Wonderful Counsellor

is backed up by the heavenly choir.

They sing a melody whose words elude me

Yet whose refrain keeps drawing me in:

"Believe, love, dream, trust, forgive"

"Believe, love, dream, trust, forgive" — repeat.
And each Christmas I find myself begging

That the Prince of Peace
Would let peace reign.

That Peace would come in Palestine, and to so many other places.

And yet, each year there is a deafening silence,
And my prayers seem in vain.

Dear God, don't people in Yemen desperately need peace this Christmas?
But this is the Prince of Peace.

A tiny baby who can't even hold the finger of the hands that held him.

Just like ten billion other babies

The Mighty God,

Reliant on us.
And this year, I know

That peace depends on us.

The Prince of Peace is the baby born in Bethlehem.
If peace is to reign

It will only come through us.

And it will only come when we
See the world

Like that newborn child.

© Chris Rose 2018