'Prayer for Jubilee' – written by Rev. Chris Rose, Director of Amos Trust in May 2017 in the run-up to the 50th Anniversary of the Occupation of the Palestine Territories.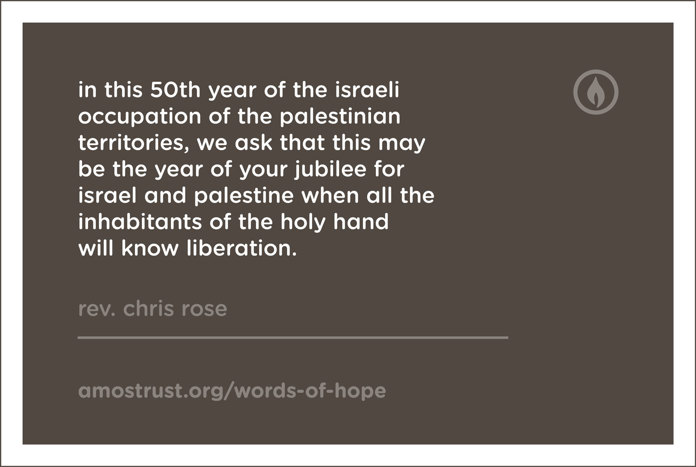 Prayer for Jubilee after 50 years of Occupation 
Prayer for Jubilee
You will declare this fiftieth year to be sacred and proclaim the liberation of all the country's inhabitants."


Leviticus 25:10
Gracious God, in this 50th year of the Israeli occupation of the Palestinian territories, we ask that this may be the year of your Jubilee for Israel and Palestine when all the inhabitants of the Holy Land will know liberation.
We ask that your Spirit will strengthen and renew the vision of all those in Israel and Palestine who work for peace and that past failures will not hold them back.
We ask that Muslim, Christian and Jew will recognise their shared humanity and equal worth, as those created by You in your image. We long for a time when differences will be celebrated and neighbours will no longer live in fear of one another.
God of Justice we ask that equal rights will flourish under just laws that protect all people so that all who call the Holy Land Home will be able to celebrate their freedom and security.
We ask this in the name of the Prince of Peace, who is able to lift us from the valley of despair to the bright mountain top of hope.
Amen
Rev. Chris Rose, Director of Amos Trust (May 2017)