Read the full story of last weekend's Amos Trust Run The Wall fundraising event for Gaza.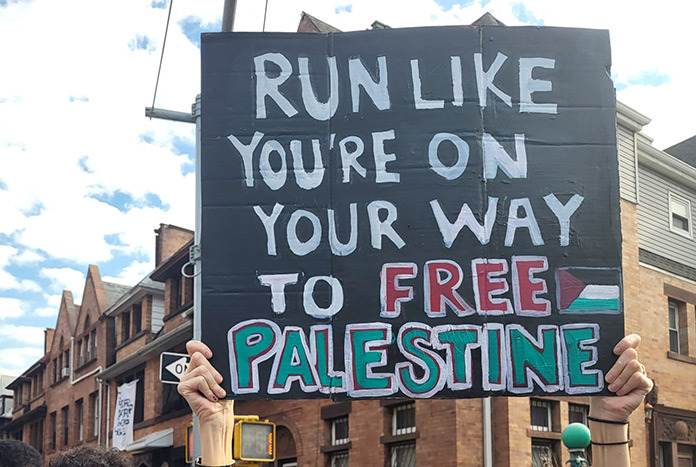 "You run for Gaza we run to survive! So much love and respect all the way from Gaza!"
Time and time again, our partners in Palestine tell us that knowing we are thinking of them, standing by them, standing up for them, speaking out about their situation and trying to make their voices heard helps them feel seen and gives them some hope even in the darkest hours.
As we have shared photos of the recent marches around the world with our partners and friends in Gaza and the West Bank, it is clear that it really does help them feel less alone. It's not much, but it's something.
"Thank you so much (for marching); it means so much to know that there are people like you who genuinely care about our safety and well-being." 


Ouda El Jelda — NECC Acting Executive Director, who for the last month has been sheltering in the Orthodox Church in Gaza City.
So, with that in mind, we hastily reimagined our annual Run The Wall event, initially set up when the Palestine Marathon was cancelled due to the pandemic and now an annual event held on the weekend of the Palestine Marathon. It is an event bringing people from all over the world together to run wherever they are (or walk, swim or cycle), sharing messages of solidarity, raising awareness and, in some cases, fundraising.
And last weekend (with just over a week's notice), nearly 1,000 people in 33 countries Ran The Wall for Gaza (or walked or cycled). We saw the highest number of people registered since we started Run The Wall, and between them, they raised £6,000 for our emergency appeal or Gaza. Not bad with just 10 days notice. Imagine what we could do with a little more time!
Some people ran 5 km whilst others — well, one, ran 60 km, telling us "I ran a 10 km race and then 50 km home!" Others walked or used treadmills, and many joined Big Ride For Palestine cycle rides. Some went out one day and then decided to do it all again the next, and everyone did it in solidarity with the people of Gaza and with Palestinians everywhere on their minds.
"I may only be half-Palestinian, but I am proud to be so. I am truly humbled by each message and each picture of solidarity. It restores my faith in humanity when, at times, there seems none."

A UK-based participant
We were delighted that Amos Trust partners in other countries could join us, with the team from Cheka Sana in Tanzania and some of the young people from Karunalaya's children's shelters in Chennai, India, taking part as well as our friends from Holy Land Trust in Bethlehem.
We always invite people to join a WhatsApp group for the weekend to share photos and messages. At its peak, there were 350 people participating. There was a stream of messages and pictures throughout the weekend — it felt like everyone was cheering one another on and at the same time, there was such a depth to why people were involved. At a time when we are all hurting,  unable to take our eyes off the news and social media but unsure what to do as a response, it was so good to see people coming together with others who felt the same way.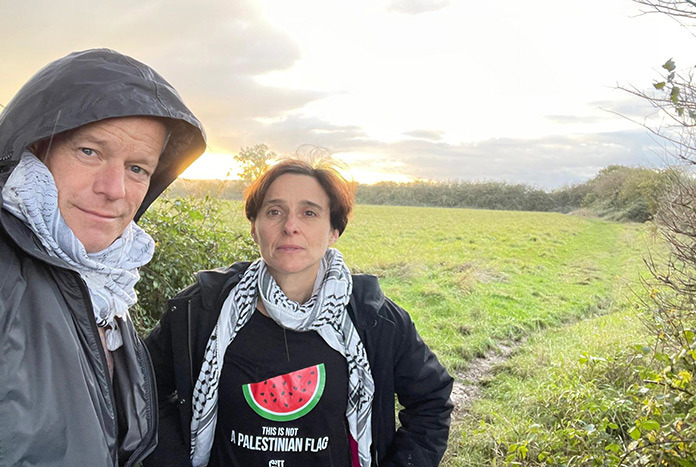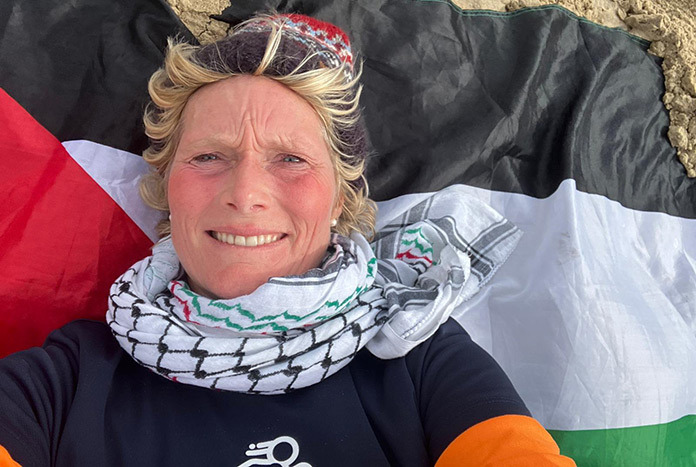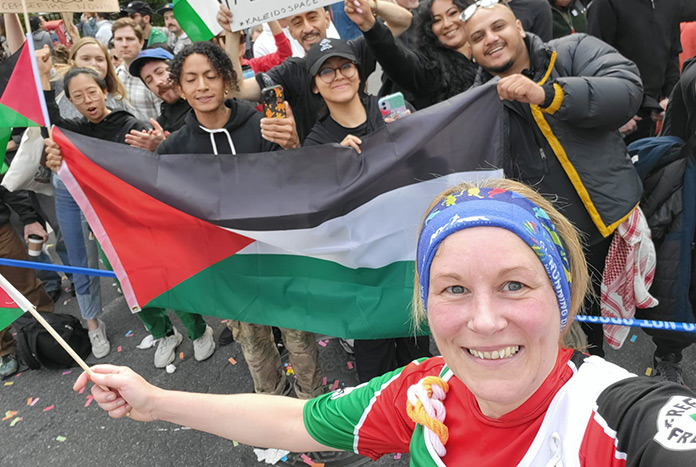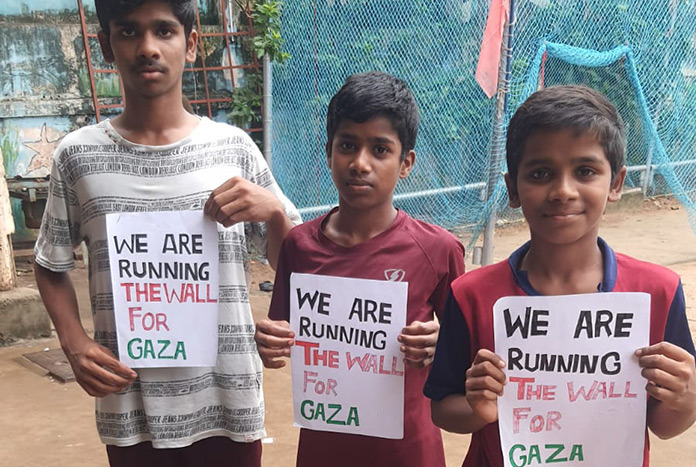 Running The Wall for Gaza
From the top:

1. Amy and her husband Tom: "Walking in Stock, Essex for all Palestinians in the West Bank, Gaza and in refugee camps in Lebanon. We are always in solidarity with you."

2. Ingrid running in the Netherlands.
3. Janet running the NYC Marathon with a Palestinian flag.
4. Ski, who ran the Palestine Marathon with Amos Trust earlier this year, ran in solidarity with friends in Surrey.
5. Young people from Amos Trust's partner Karunalaya, in Chennai, India, running the wall for Gaza.
— — — — — — — 
Run The Wall was primarily set up to show our support for our Palestinian brothers and sisters. Still, it was clear that the very lively WhatsApp group once again became a place to share with and support like-minded activists in one big soul-filling stream of photos, comments and emojis. And as the messages kept pinging in, there was no group of people I would rather have spent my weekend with.
"Knowing how to respond to the situation in Israel and Palestine emotionally, intellectually and practically is complicated. Joining hundreds of people from over 30 countries in running or walking 5k and sending photos of that to those on the ground so they know they are not forgotten about is easy." 

Brian who ran in Dunbar, Scotland
On the 1st – 2nd March 2024, we will Run The Wall for Palestine again and we want it to be even bigger. If you have taken part before, we know you will want to join us again, and if you have not taken part yet, then now is the time to sign up and join us to run or walk wherever you are in an act of worldwide solidarity.
So join us and Run The Wall as an act of solidarity, as a call for Palestinian rights and to demand an end to Israel's apartheid policies. Read more and sign up here.