Isobel Webster did a weekly shop for our £5 For 5 Day challenge, to show people at Greenbelt Festival what they could expect to eat for an entire week. Here she explains her experience.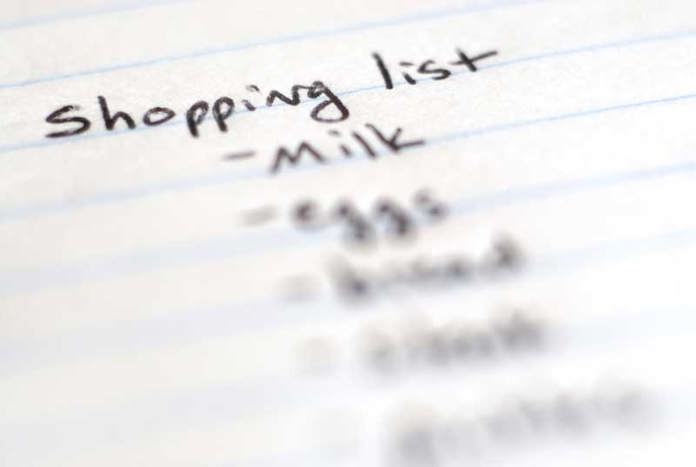 Buying a weekly shop for £5 For 5 Days
At Greenbelt 2016, Amos was highlighting their £5 For 5 Days street child fundraiser. I offered to do a weekly supermarket shop to show people at the festival what they could expect.
This is what I found out:
the staff member who helped us used the phrase "What they do…" several times, referring to people for whom shopping this way is a normality
because we couldn't buy any fruit and the only fresh veg we could get was a bag of carrots and one potato, onion, tomato and mushroom, I tried to buy two mushrooms but had to put one back to get below £5
one small potato costs 24p
I could only buy white pasta and white bread – wholegrain is not for the poor
with only £5 to spend all together, I couldn't buy fresh meat, only canned
Asda's "Smart Price" brand is entirely developed for people who cannot afford what I call 'real food' but still need to eat – canned meats at 40p per can, cans of veg at 20p, etc. People may not be nourished but at least they won't feel like they are starving
Asda (at least the one near Kettering), deliberately down-price their meat that is going out of date at the same time every day, 8pm, so that those people can get in and know they will be able to buy something relatively fresh
I couldn't buy any of the things like lentils, chickpeas, kidney beans, feta cheese, seeds – that I as a mostly-vegetarian/vegan, rely on for protein – healthy eating is not for the poor
I couldn't buy margarine, I couldn't get enough milk to last five days and I couldn't buy fresh milk, it had to be long-life. I couldn't buy tea or coffee because you can't buy just half a dozen tea bags or salt or any flavourings
when I saw the pile that I ended up buying, the thought of surviving on that for five days was nearly heartbreaking – just thinking about it made me feel slightly ill. Also, I knew if I tried to live on the recipes I had put together, I'd be hungry for the whole five days.
As usual, the more money you have to spend, the more and better you could buy, i.e. if I'd been buying for a family of four, I could have bought a pack of lentils or a small pack of fresh meat – that would have transformed the whole end result.
I realise it's mostly families buying, but the people in the UK we hear about starving to death tend to be single people living alone. This was supposed to be an exercise to draw our attention to street children, which of course it does, but it was that phrase of the Asda staff member "What they do…", and her frequent references to how her store tries to help "them", that bludgeoned me with the reality of how many people in the UK live like this all the time.
This is a hidden level of poverty in our society because we obviously don't see these folks out and about in town, in cafes etc; my partner Bryan works with them in Scunthorpe but I'd never had such a stark experience of identifying with living this way.
Please consider taking the £5 For 5 Day challenge.
Isobel Webster