"October is Breast Cancer Awareness Month and Amos Trust is running its annual appeal to raise awareness and vital funds to support the women of Gaza in their fight against breast cancer – Women 4 Women." Amos supporter Sarah Baron writes about her experience of meeting the incredible women of the West Bank.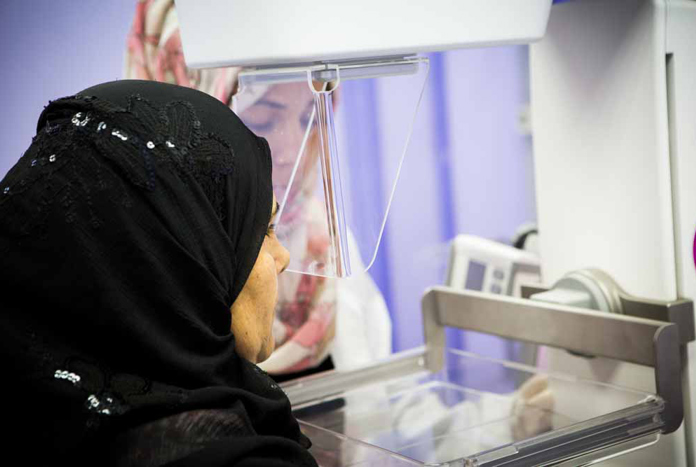 October is Breast Cancer Awareness Month and Amos Trust is running its annual appeal to raise awareness and vital funds to support the women of Gaza in their fight against breast cancer – Women 4 Women.
I wanted to write an article about Palestinian women, in support of the launch of this appeal… but, rather annoyingly, I've never been to Gaza. So instead I'm offering this piece about Palestinian women of the West Bank – where I have actually been – and trusting that you good people can make the necessary connections for yourself.
Here's to strong women:
may we know them, may we be them, may we raise them.


Unknown
During my travels through the West Bank with Amos Trust, I was very fortunate to meet a wonderful array of strong, inspirational Palestinian women – including full-time wives and mothers, daughters teaching or studying at local schools and universities, members of women's co-operatives, leaders of grassroots organisations, lawyers, authors/poets and traditional crafts-women.
Every single one of these educated, intelligent women exuded warmth, generosity, enviable self-possession and an extraordinary, enduring passion for (and commitment to maintaining) their Palestinian culture and traditions.
It's a difficult concept to get your head around, as an (apparently) liberated Western woman – how these women (all refugees in their own country) are navigating their lives with such grace and dignity in such a patriarchal society that is, in turn, dominated by the Israeli occupation. (Talk about a double-edged sword!) 
Palestinian women continually have to surmount barriers set up by their traditional society, family and the Israeli authorities...
From Palestinian Women: Identity and Experience,
edited by Ebba Augustin
The images we are fed via the media, from the West Bank and Gaza, do not really help to educate us or give us a better understanding of the power of the women living there. They are often heavily biased towards men-only, violent clashes – we rarely see the women and, on the rare occasions we do, they are covered up, apparently submissive, mourning the loss of a loved one and very much in the background.
In the West Bank, this absolutely does not match the reality or align with the people you meet. There is a whole other world here that no-one is talking about, but it was not until we got to spend a night in a refugee camp that I was gifted with an insight into the 'behind the scenes' real lives that many women lead in Palestine.
This one night turned out to be truly enlightening and enriching… and helped me to gain a far better understanding. It was not until I spoke with others on the trip the following day, who had been in mixed households, that I fully appreciated my luck in spending the evening with a women-only household, where the women were entirely free to be themselves.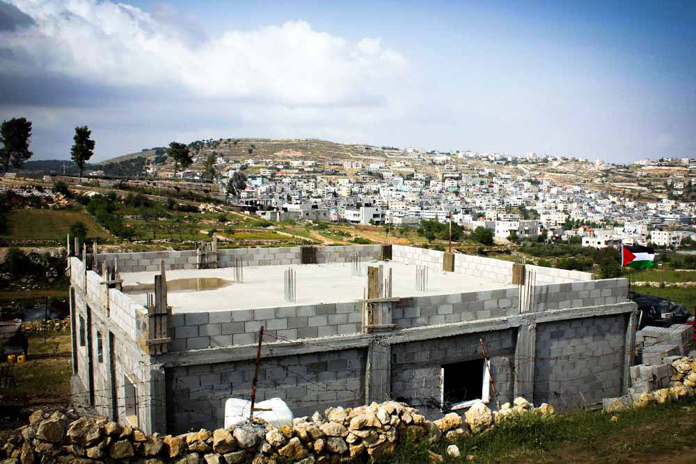 Photograph:
The house in Palestine that was rebuilt with help from Sarah and other UK volunteers from Amos Trust — April 2015.
A night in a refugee camp
Imagine if you will, an eight-hour day in the rain working on a building site – followed by two-hours standing in yet more rain watching the Amos Trust 'team' take on the camp's youth in a game of football… never have I hated football (or rain) so much!
I endured it knowing that eventually I would be taken to the hotel, where a hot shower, cup of tea, cigarettes, dry clothes and a comfy bed awaited me. 

But NO! This was not to be! Instead, I was shipped off to a local family to spend a night in the camp – drenched and smelling like a damp dog, I fought my way up a long and very steep hill, which had effectively become a waterfall in the all-day rain.
On reaching the top of the hill my luck changed, as I was welcomed into an all-female household (husband working away in Dubai), with broad smiles, kind words, big hugs and an enormous electric fire, which I was shoved in front of until I'd dried out.
People will forget what you said.
People will forget what you did.
But people will never forget how you made them feel...


Maya Angelou
The home was sumptuous, and filled with many children ranging from 18-months to 18-years old. The living room was overflowing with bulging armchairs and sofas, the bedrooms filled to capacity with beds and piles of luxurious blankets, the kitchen bursting with fresh local produce and heady aromas promising an unforgettable meal.
Once the men had left, the mother and sister-in-law immediately removed their traditional thobes and hijabs, to reveal leggings and T-shirts and hair in ponytails. They kicked off their shoes, slipped on comfy slippers and settled down on the sofas – with the older daughters (in jeans and Nike sweatshirts) bringing us delicious hot tea and cakes.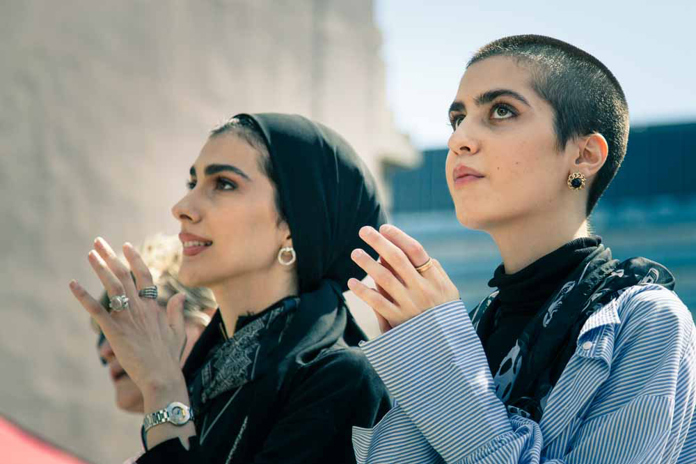 Photograph:
Two Palestinian women enjoying an event together in their community — breaking, perhaps, the stereotypical idea of who a Palestinian woman is — June 2017.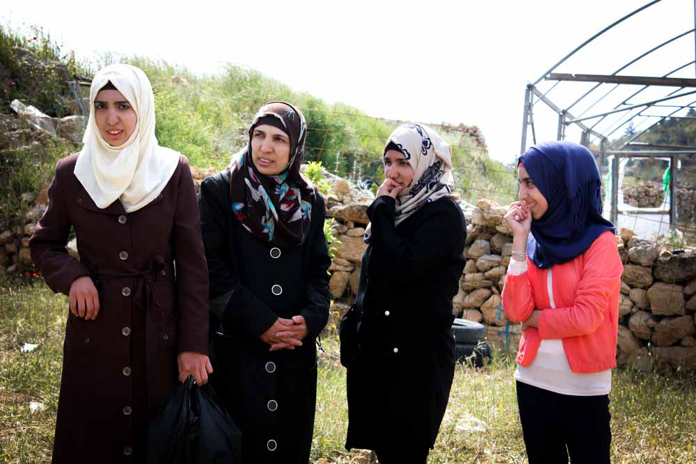 Photograph:
The women from the family whose home was rebuilt by Amos Trust volunteers from the UK — April 2015.
I started to relax a little with the familiarity of things but wondered what on earth we were going to talk about and how early I could make my excuses and go to bed!
We talked for hours, late into the night – without any awkward pauses – about husbands (apparently they are just as annoying in Palestine!), children, fashion, life in the UK, life in the camp, weddings, family, community, work… We continued chatting over a banquet of traditional foods, which seemed never-ending: salads, soups, hummus, za'atar, falafel, maqloubeh – all delicious.
They wanted to know what Paris, London and New York were really like… They wanted to talk about films and books and music… They showed me videos on their phones of family weddings and other community celebrations. They proudly brought out traditionally embroidered Palestinian dresses and other handcrafted items to explain their traditions. We talked and shared and laughed for many hours.
The lamps are the same
But the light is different. 


Rumi
It was easy to forget that we were in a refugee camp, with all that this entails for the families living there, with no foreseeable hope of returning to their original homes and land. We had so much in common on so many aspects of 'being a woman' – and it was as comfortable, relaxed and fun as spending a night at a friend's house (only without any alcohol!).
But, the harsh reality was that we were in a refugee camp, and so there were also difficult and upsetting conversations around being a wife, mother and daughter under Israeli occupation – things that we can sort of imagine but never really, fully appreciate.
My host is effectively a single mother of eight children, who works two jobs, runs the house, prepares all the meals and is responsible for holding the family unit together. This in itself is hard enough… when you then pile on top of that that she is living as a refugee under Israeli occupation it seems impossible.
All Palestinians know the strength their mothers must have and the role they play as the glue that keeps the culture and pride alive in families… The Palestinian mother is the backbone of the family and the sorrow she must bear is more than most…


The Mother, Abdalrahim Abuwarda 

(wearenotnumbers.org)
Solely due to Israeli occupation and Israeli policies, the women of Palestine – both in the West Bank and Gaza – are forced to endure many unique responsibilities, including:
Finding work and earning a living – as local work becomes more scarce and travel to work outside a camp is heavily restricted


Trying to keep their children safe, but without any means to protect them from the irrational violence of the Israeli soldiers or settlers, even on journeys to school


Carrying the burden of their children being injured, arrested, imprisoned or even killed (90% of Palestinian parents have experience of one or more of these)


Striving to empower their children to process the trauma that routinely confronts them – and to respond with non-violent resistance


Dealing with constant challenges to their freedom and dignity, including the Wall, collective punishment, being detained at checkpoints, having their homes raided during the night, gas canisters and live bullets used in their streets


Raising a family in this small piece of land, where basic needs like clean water, regular electricity, proper sanitation and means of recreation are not met


Worrying about the threat of their family becoming homeless overnight, through the Israeli home demolitions – as settlements encroach more and more on their lands



Trying to keep themselves and their family healthy, despite limited access to medical care, medical supplies and other basic services – and limited rights of movement often mean they cannot travel out of camp to receive specialist hospital care if needed.
With these ceaseless burdens (no rights, no security, no defense) one might expect the women here to be broken, but they are astonishingly resilient – they seem to incorporate all the trauma and pain into their lives and derive power and strength from them.
They also have a tight community in which they support and care for one another. The sacred feminine is very much alive and shining brightly in Palestine – but she needs our solidarity and support.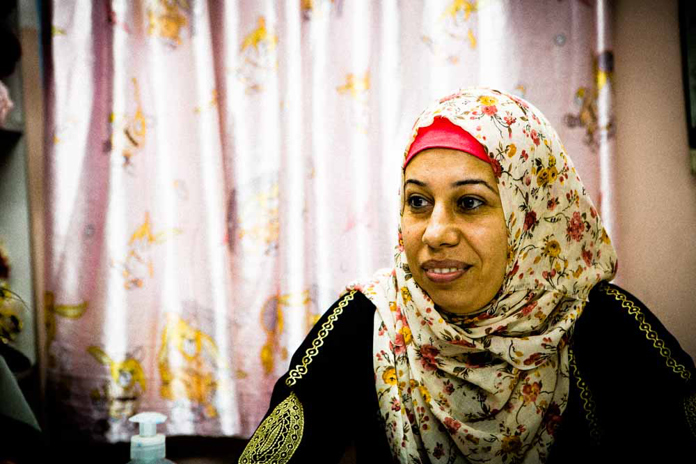 Photograph: 
A health worker from Al Ahli Arab Hosptial in Gaza City — June 2016. © Amos Trust/Nick Welsh
What can you do to help today, right now?
Please take just a few minutes to sit and reflect on one or two of the above scenarios – and how different your life would be if you had to contend with even one of them EVERY SINGLE DAY, whilst you tried to live your family life.
Imagine how much strength and resilience these women need EVERY SINGLE DAY – and realise how astonishing it is that they still manage to hold it all together, and present themselves to the world with dignity, gentleness and love…
And now, can you imagine how the women with breast cancer are holding themselves and their families together – especially those who are not allowed to travel for treatment or who have been too afraid to seek medical help or too selfless to take the time to care for their own needs… or who cannot receive the treatment they desperately need due to lack of funding/equipment?
The Amos Trust Women 4 Women appeal is running NOW. Please donate to show your solidarity and support by raising vital funds to help provide Palestinian women with the support and treatments they need.

Photography: Nive Hall, Mark Kensett & Nick Welsh
— — — — — — —
Please watch our short film 'A Place of Peace' about Al Ahli Arab Hospital in Gaza City where Amos helps support the breast cancer screening programme.


If you would like to travel to Palestine with Amos Trust, please visit the Amos Travel section of our website to find a trip that might suit you.